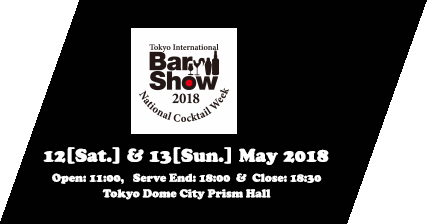 MASTERCLASS
Participation in a Masterclass requires purchase of a voucher ticket. Get your tickets early as it is first come, first served until the class is filled.
Special Guest: Mr. Salvatore Calabrese

The Making of a Great Bartender

5/12(Sat.) 16:30-17:30
5/13(Sun.) 16:30-17:30


One of the most legendary bartenders of all time, Salvatore Calabrese traces his steps to becoming the myth and the legend, while at the same time offering words of wisdom to current bartenders on how to rise to greatness. His Dukes Martini and other signature cocktails will be served during the class.

Ambassador of ISLAY


Scotch Whisky Annual Bottle Seminar
'Bruichladdich & Glenfarclas'

5/12(Sat.) 15:00-16:00


The Ambassadors of Islay will bring the splendors of Scotch whisky by introducing this year's Scotch whisky Annual Bottle along with the attributes of the distilleries and inspirations of the producers during this seminar. Dave Broom selected the barrels for the Bruichladdich and will be on hand to explain the reasoning behind his selection.
Guest speakers: Dave Broom(Bruichladdich) and George Grant(Glenfarclas).
*Cost for this Masterclass is ¥2,000.


Scotch Whisky Seminar 'Bowmore'

5/13(Sun.) 15:00-16:00

Learn the wonders of Bowmore , not only Islay's oldest distillery, but also home of the oldest warehouse for single malt, while enjoying a tasting with current head distiller David Turner. David began working for Bowmore at the young age of 16 and is eager to share his unique knowledge and perspective.


Cocktail Culture Foundation

Annual Bottle Special Seminar
'Chichibu & KI NO BI Old Tom Gin'

5/12(Sat.) 12:00-13:00

Sip Japanese whisky 'Chichibu' and Kyoto Distillery's 'KI NO BI', this year's Annual Bottles, while hearing the particulars of the distilleries and motivation of the producers at this seminar. This is the Only Masterclass at which Annual Bottles can be sampled, so don't miss your chance!
Guests speakers: Yumi Yoshikawa, Brand Ambassador, Venture Whisky Ltd. and Masami Ohnishi, Technical Advisor, Kyoto Distillery. *Cost for this Masterclass is ¥2,000.

Suntory Spirits Limited

The World of THE ESSENCE of SUNTORY WHISKY

5/12(Sat.) 13:30-14:30

Suntory Whisky released "THE ESSENCE of SUNTORY WHISKY", a limited series of various unblended malt whisky sets for connoisseurs to enjoy, in February of this year. Always aiming for a uniquely Japanese deliciousness, carrying on traditions and bringing Suntory Whisky innovations to life, Shinji Fukuyo, Chief Blender for Suntory, explains this prime example of new product development. Tasting will be available for the first time. Come experience the Suntory Whisky difference.

BACARDI JAPAN LIMITED

New from Bombay Sapphire! Tonic Essence for the "Finest Gin and Tonic"

5/13(Sun.)12:00-13:00

The quintessential tonic essence developed by Japan Gin Association President Hisashi Kishi along with other leading Japanese bartenders for the finest Gin and Tonic. Guest speakers include the developers who will divulge the secrets of their tonic essence. The only tasting available at the BarShow will be during this Masterclass, so don't miss out!




ASAHI BREWERIES,LTD

Tracing the Allure of Coffey Series, Tradition and Innovation from Nikka Whisky

5/13(Sun.) 13:30-14:30

'Nikka Coffey Malt' was selected for the highest award of trophy at the prestigious 'International Spirits Challenge (ISC) 2017' in the grain whisky category. More, with the release of 'Coffey Gin' and 'Coffey Vodka' last year, the internationally rare "Coffey column still" is gaining more and more interest. During this BarShow, Nikka Whisky Chief Blender Tadashi Sakuma shares why the Coffey series has been so generously embraced globally as a result of Nikka Whisky traditions and innovations.