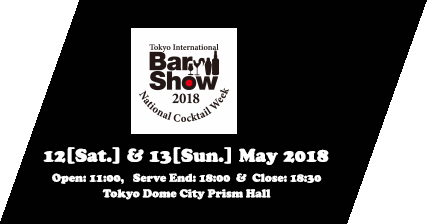 SPECIAL GUESTS
Mr. Salvatore Calabrese

 Known as "Maestro", Mr. Calabrese is a mentor to bartenders the world over, is a permanent fixture as invited guest to innumerable events, judges competitions, and is famously and rightly known around the globe as a "legendary bartender" with so many stories befitting his name.
 As if that is not enough, he is also the father of Duke's Martini, which holds the world record for most expensive cocktail at a staggering £5,500 (¥830,000)!
 Mr. Calabrese also manages several bars around the globe and is a best-selling author.

Mr. Dave Broom

 An editor of alcohol and music, David has been active for many years and is well published In particular, he is famously well-known for the publication of The 'World Atlas of Whisky' which explores key whisky distilleries in great detail. So popular in fact that it has been followed with subsequent reprints. In September of 2017, his Japanese whisky travels was published as 'Whisky-do, a Journey into Japanese Whisky' .
 Dave made appearances at the 2012, 2013 and 2017 Tokyo International BarShows, and has assumed the role of Official Executive for the BarShow this year.