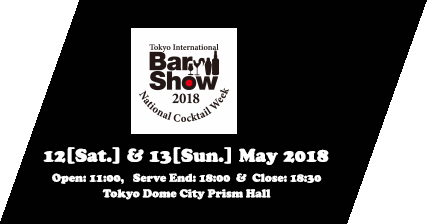 MAIN STAGE
Japan Gin Association

Dave Broom Presents the Appeal of Scottish Gin

5/12(Sat.) 12:00-12:30

It is well known that a great many whiskies have been born of Scotland's majestic natural environment and rich water. Scotland has also produced a lot of gin. Author of GIN THE MANUAL Dave Broom discusses the appeal of Scottish Gin.

Cocktail Culture Foundation

Dave Broom's Annual Bottle Talk Show 1
– Venture Whisky 'Chichibu'

5/12(Sat.) 13:30-14:00

Listen in and sample this year's whisky Annual Bottle 'Chichibu' as Dave Broom, a prominent figure in the promotion of Japanese whisky who has been discovering whisky around the world for years, talks us through the characteristics of the distillery and shares reflections of the producers, in this Talk Show.
Guest: Ms. Yumi Yoshikawa, Brand Ambassador, Venture Whisky Co., Ltd.

Dave Broom's Annual Bottle Talk Show 2
– Kyoto Distillery's 'KI NO BI Old Tom Gin'

5/12(Sat.) 14:15-14:45

Sip 'KI NO BI' while listening to Dave Broom present the special features of the distillery and motivation of the producers of this year's gin Annual Bottle 'KI NO BI Old Tom Gin'.
Guest: Mr. Alex Davis, Head Distiller, Kyoto Distillery

Special Guest: Mr. Salvatore Calabrese

Legendary Bartender Presents the Negroni
– with a Twist

5/12(Sat.) 12:45-13:15
5/13(Sun.) 13:45-14:15

The 'Negroni' is a popular classic cocktail in Europe and one of the favorites of legendary bartender Salvatore Calabrese. Look forward to a gem of a twist on this old classic presented by international cocktail competition judge, mentor to many a bartender and publisher of numerous cocktail books.

Suntory Spirits Limited

The Allure of ROKU, Japanese Craft Gin

5/12(Sat.) 15:00-16:00

Top bartenders present the allure of Japanese Craft Gin ROKU debuted globally courtesy of Suntory. Join in to learn how Roku is enjoyed here in Japan and around the world.

Ambassadors of ISLAY

Annual Bottle Scotch Whisky Talk Show

5/12(Sat.) 16:15-16:45
'Bruichladdich & Glenfarclas'
5/13(Sun.) 16:45-17:15
'Bowmore, Bruichladdich & Glenfarclas'

The Ambassadors of Islay share this year's BarShow scotch whisky Annual Bottle along with the unique characteristics of the distillery and impetus of the producers over a tasting to showcase the splendor that is Scotch whisky in this Talk Show. Dave Broom selected the barrel for the Bruichladdich and will delve into the reasoning behind his selection.
Guest speakers: Dave Broom(Bruichladdich) and George Grant(Glenfarclas) and David Turner(Bowmore, May 13 only).
Moderator: Keiichi Hayakawa, Ambassador of Islay

Ms. Shoko Tomita

Flair Bartending Performance

5/12(Sat.) 17:00-17:30

A staple attraction since performing at the first Tokyo International BarShow, the too beautiful to flair Ms. Shoko Tomita will once again take the stage. She has prepared a story book interpretation for a feminine touch. Be sure to catch her once again this year!

Japan Insight ltd.

Giancarlo Mancino Discusses the World of Real Italian Vermouth

5/13(Sun.) 14:30-15:00

As vermouth continues to garner renewed attention in Europe, cinchona bark, wormwood and other botanicals commonly used in real Italian vermouth have especially piqued interest. Famed not only for his producing of hotel bars, guest speaker Giancarlo Mancino discusses vermouth and the Italian Piedmont area where Mancino Vermouth is made.

ASAHI BREWERIES,LTD

Campari Seminar by Daniel, Campari Group National Brand Ambassador

5/13(Sun.) 15:15-15:45

This will be the first seminar in Japan given by Daniel Pilotta, National Brand Ambassador for Campari. Daniel will give a demonstration using Negroni and Aperol that have captured the attention of the world, and engage listeners in an exciting presentation of the latest in overseas cocktail news and culture, foreign bar scene and global trends.

BATW Champion & Bols Master Bartender Speaks on the Appeal of 'Genever', the Grandfather of Gin

5/13(Sun.) 16:00-16:30

A introduction to Bols Genever, the grandfather of gin, by Bols around the World Champion Jessica Mili and Lucas Bols Master Bartender Ivar de Lange. Based in Amsterdam, Lucas Bols is the oldest distilled spirit brand in the world. Ivar de Lange and Jessica Mili will tell you all about this fascinating history and will take you deeper into the world of Bols Genever.

Japan Gin Association

Bartenders Present the Wonders of Gin & Gin Cocktails

5/13(Sun.) 17:30-18:00

Bombay Sapphire, Nikka Café Gin, ROKU. The appeal of these three gins and recommended gin cocktails will be presented by three Nippon Bartenders' Association bartenders.
Speakers: Atsushi Asakura, Noriyuki Iguchi, Yuichi Hoshi, and Japan Gin Association President Hisashi Kishi.
-->