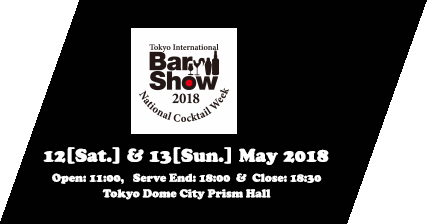 2018 ANNUAL BOTTLES
<How to Purchase Annual Bottles>
"Chichibu" numbered tickets will be distributed starting at 9:00 am at the East Entrance. You will need your BarShow Ticket, BarShow Card and ID. If you do not already have a ticket, please purchase one. Same-day Tickets will be available for purchase there. If you don't have a BarShow Card, please apply for one. You may apply for one in person there. Once your ID has been confirmed against your ticket and BarShow Card, then you will be given a "Chichibu" numbered ticket.
Chichibu Numbered Ticket Distribution 9:00 – 10:30
*Sales will be open only to those wishing to purchase Chichibu between 9:00 – 10:30. Preferred sales will be temporarily halted at 10:30 for event setup. If you have a Chichibu numbered ticket but have not yet purchased your Chichibu during this time, we will ask you to kindly exit the building at this time. Thank you for your understanding.
Regular Sales 11:00 am – 6:00 pm
If you do not wish to purchase your bottle immediately, you may go to the Annual Bottle Booth by the end of the event that day to purchase. Please note that even if you receive a numbered ticket on May 12 (Saturday) and have it in hand, you will not be allowed to make a purchase on the following.
'Ichiro's Malt CHICHIBU'
2011 Vintage
Mizunara Head 's Oak Cask 700ml 61.3%

The refreshing scent of bluegrass and spearmint. A white and lustrous sweetness and perfect amount of cask aroma that lingers, lending a definitive presence to the flavor. The complex aroma derives from the interwoven American white oak and mizunara head's oaks that transforms depending on time for a profound impression. Enjoy experiencing the multifaceted layers of aging made possible in this bottle.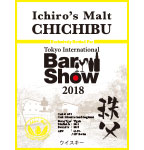 Special Venue Price
¥19,000(incl. tax)
BarShow Card Required
One Bottle Per Person
100 bottles
only per day
'KI NO BI Old Tom Gin'
700ml 45%

This old tom gin from Kyoto Distillery is made by adding the dark brown sugar of Yonagunijima Island to its staple 'KI NO BI Kyoto Dry Gin'. Unlike its white cousin, this dark brown sugar is full of minerals, is sweet and carries a complexity of flavors. The label design was overseen by KIRA KARACHO, a paper screen merchant established in 1624 and the only that has remained in business since the Edo Period. Just as advances in distillation techniques began to wane for old tom gin, there have been signs of a revival in the past few years. And along comes a new old tom gin, courtesy of Japan's dedicated gin distillery. Enjoy.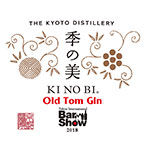 Special Venue Price
¥6,000(incl. tax)
'Glenfarclas'
2008 Vintage Sherry Cask 700ml 59.7%

A dedication to direct fire distilling and aging in 100% sherry casks. Glenfarclas Distillery makes a traditional Speyside style single malt. It is one of the few distilleries today that can boast a family-owned business tradition that spans 150 years. Sixth generation George S. Grant selected a single 2008 1st fill sherry cask that is rich and strong exclusively for this year's BarShow. Cask-strength bottling with no added water or blending fully expresses the alluring flavor of a direct fired sherry cask that will not leave you wanting for more.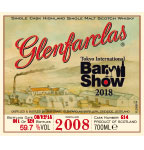 Special Venue Price
¥15,000(incl. tax)
One Bottle Per Person
150 bottles
only per day
Ambassadors of Islay Present –
Dave Broom Select!
'Bruichladdich'
2006 Bourbon Cask 700ml 61.1%

The terroir of Islay and its people are beloved by the Bruichladdich Distillery. Using only 100% organic Scottish barley and distilled in 2006. Aged 11 years in a first-fill bourbon cask. Unpeated. This limited edition item was hand picked by the one and only Dave Broom. "Aging in a bourbon cask gives a rich sweetness reminiscent of juicy apricot and butter while alive with a touch of floral. The aroma immediately blooms, but gradually unfolds layers of pineapple and hints of mint." – Dave Broom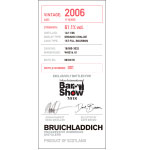 Special Venue Price
¥16,000(incl. tax)
One Bottle Per Person
90 bottles
only per day
'Bowmore No.1'
Advance Sale at the Tokyo International BarShow!

This first-fill bourbon cask* whisky was aged in the legendary 'No.1 Vaults', the oldest of the Bowmore Distillery warehouses located low and near the sea. This 100% unblended malt whisky goes on sale May 22, but is offered for advance sale exclusively at Tokyo International BarShow! Signed by current Head Distiller David Turner. Bowmore's distinctive sea spray aroma is enveloped in vanilla that is only derived from a 100% first-fill bourbon cask.
*Casks used once for aging bourbon whisky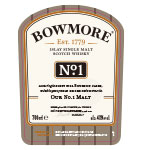 Special Venue Price
¥3,500(incl. tax)
50 bottles
only per day